Big or small,
long or short,
simple or complex,
We do our best for every single project.
Projects
Water Tank, 2015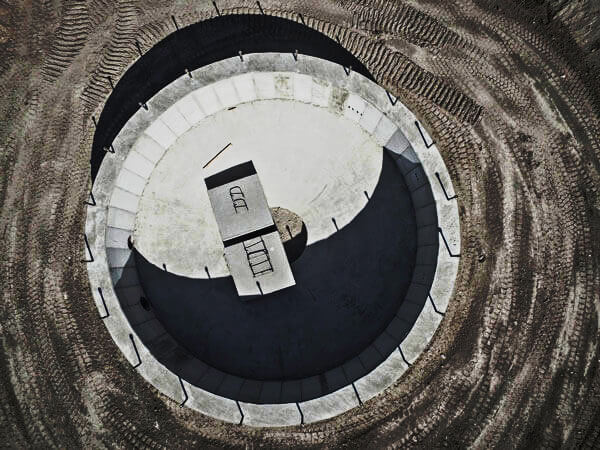 This water tank is a 270-foot tall water tank with a circumference of 60 feet. The tank construction was subcontracted by Jones Contractors Inc. Earth and civil work was performed by Jones, as was the excavation of soil to sub-grade, extending four feet below the ring wall. Jones Contractors was responsible for the procurement of class-specific material imported for the compaction of the ring floor in lifts, rising to the bottom ring wall elevation. A mud mat was poured and a tank ring wall was constructed. Ten-inch and eight-inch ductile iron pipe was mechanically constructed and installed along with the installation of two fire hydrants. Select fill was imported and compacted in lifts within the tank ring wall resulting in a 98-percent modification. An entry driveway, culvert and crane pad with Class-13 material was constructed for the site. Jones' civil crew poured the final concrete inside the ring wall. A finished site grading was done and worksite restoration was completed. This project was successfully completed incident-free and within the proposed schedule.
Terminal Project, 2017-18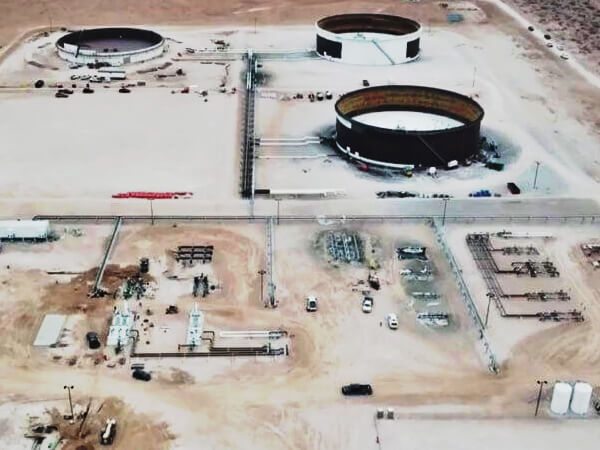 This terminal project was a complete 30-acre site completed from August 2017 to July 2018. Jones Contractors installed three 240,000 BBL tanks, four inbound pig traps (with leak detection metering), three 500-hp vertical booster pumps, 24-inch suction and fill lines with manifolding, one 30-inch ball prover, and multiple truck unload LACTs. Overall, Jones' crews made a total of 4,576 welds from ¾-inch to 24-inch in diameter, tied more than 33 tons of rebar and set in 527 foundations. 
Station Project, 2016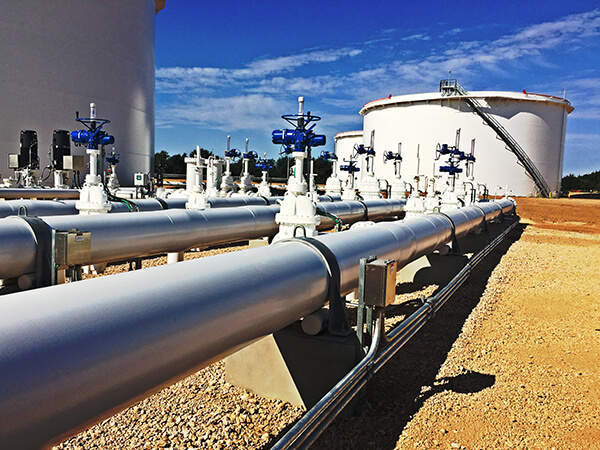 This station was a green-field construction project. The scope of the project included all grading, civil, structural, mechanical and electrical work associated with the installation of new pumps, pipe, valves, fittings, platforms, stairways, pump buildings, bridge crane, electrical substation, electrical equipment buildings, and power and control wiring. Additionally, Jones Contractors installed all site grading, new roads, fencing, concrete foundations and supports, as well as procurement and installation of structural steel. The mechanical work included fabrication, installation, bolt-up, associated fittings, reducers and coating of 2-inch thru 24-inch piping with 31,796 weld inches on 1,320 welds. The job accrued 29,718 safe man hours on the project while completing these tasks. Equipment installation included a PDC building, one prover, two meter skids, two booster pumps and strainers, four truck LACT units, two underground sump tanks, and two pig traps.
Gathering Pipeline, 2018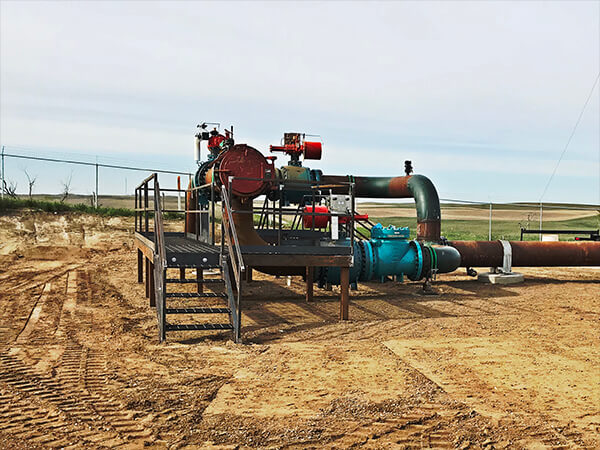 For this gathering pipeline, Jones Contractors installed approximately 12 miles of 20-inch natural gas gathering pipeline from a well pad site to the connection location to the existing 20-inch gathering pipeline. This included installation of a 20-inch launcher at the Lite 11-11 well pad location and 16-inch launchers at the Lite 31-11 and 41-11 well pad sites to allow for the pigging of the new pipeline system. The 31-11 and 41-11 well pad connections included 16-inch laterals from the well pad and a WYE fitting connection to the new 20-inch gathering pipeline. Two new block valve locations were also installed. 
Booster Station, 2017-18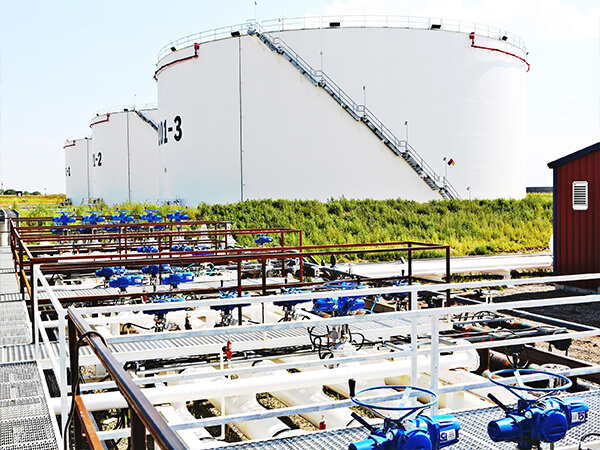 Jones Contractors performed upgrades to the this booster station which were required to facilitate other upgrades being made in order to produce a higher output. The company installed the following equipment for site development, installation of foundations and associated piping: a low temperature separator, a charge pump P-5210, a charge pump P-5220, a liquid coalescer, an NGL pump P-5410, an NGL pump P-5420, an EG skid, a moisture analyzer, an HP/LP process flare, a knockout drum V-7110, a knockout drum 7120, LP and HP knockout pumps and a 100-foot emergency flare. 
Construction Project, 2017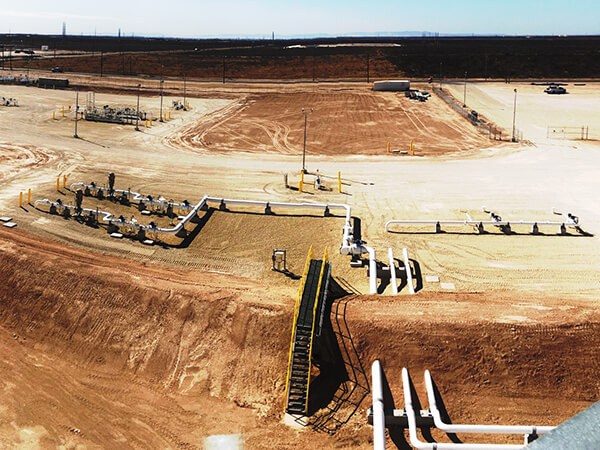 Construction of a 100,000 BBL tank storage facility with future expansion capability on a 14-acre site was part of this construction project in which Jones Contractors constructed a tank containment berm and performed site grading. The company installed all foundations, as well as setting all equipment: MCC, two 1,500-hp ML pumps, two 150-hp MLBP, two dual stream meter skids with sample skid, three truck LACTs, and three underground sumps. Fabrication and testing of 2,114 total welds from ¾- to 20-inch diameters for more than 23,000 weld inches. We also performed fencing services and road construction. 
Refinery Pipeline Project, 2017-18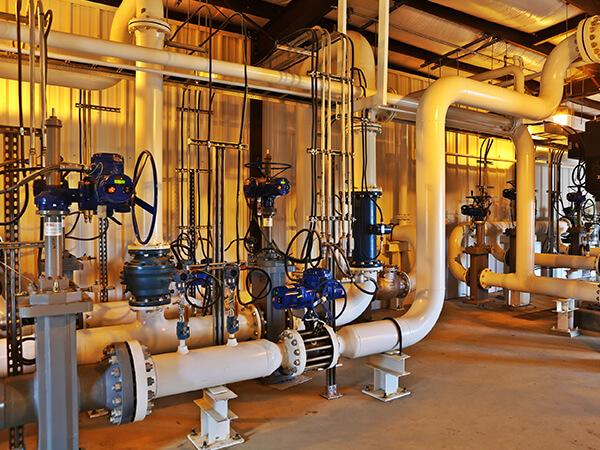 For this refinery pipeline project, Jones Contractors installed new equipment and facilities to receive, transfer, and store crude oil between a new meter facility and three existing crude oil storage tanks. Additionally, the company constructed a new transfer meter facility on the refinery property and installed two new 20-inch pig launcher traps located within the existing tank TK-75 containment dike.
Pipeline and Terminal Project, 2018-19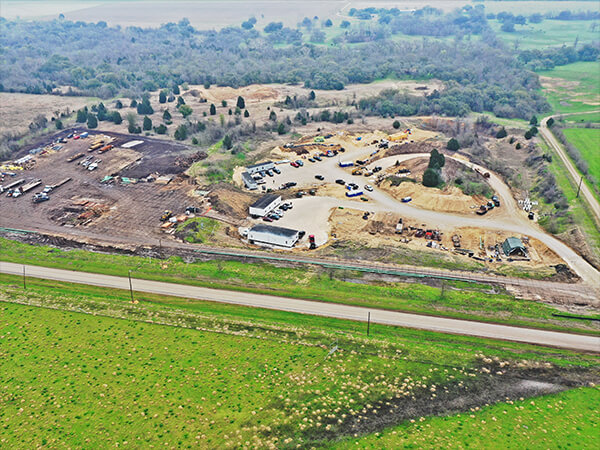 The pipeline and terminal project included the construction of sixty-nine miles of 12.75-inch common carrier pipeline from a green-field products terminal to another green-field products terminal. Along this route, Jones encountered multiple challenging terrain and difficult crossings that included thousands of linear feet of environmentally sensitive wet lands, railroads, major highways, county roads, and such like. At completion, Jones will have installed approximately 38,378 linear-feet of HDD with multiple bores in excess of 2,000 linear-feet. 
Client Testimonials
Andeavor has used Jones Contractors for the past 5 years and they are considered a valuable partner in our business. Jones Contractors has provided all types of construction services over the past 5 years ranging from pipeline, station maintenance and repairs to major pipeline and station construction projects. Jones Contractors always manages themselves, with integrity and honesty at all times, providing quality professional services. I would highly recommend Jones Contractors.

Robert Wasicek,

Senior Manager, Construction

Andeavor

Valero Terminaling and Distribution Company has utilized Jones Contractors for various projects since 2010.  Jones has successfully completed projects on a range of scale from erection of new canopies over truck loading racks to the most recent and largest project scope of the installation of approximately 70 miles of 12" refined products pipeline. This recent pipeline project was extremely complex to complete with a total of 19 horizontal directional drills and was plagued by continual rainfall through the entire project. Jones has been a pleasure to work with and strives to maintain a reputation of professionalism and camaraderie. They are fair and welcome a team approach to negotiating changes that occur throughout a project cycle. Heath Jones has put together a great team and Valero values the partnership we have created.

Ryan Schiffelbein,

Senior Manager Project Engineering
Logistics Operations and Development

The Valero Companies
Clients
With a roster of more than 250 current projects for more than 20 clients, Jones Contractors works extensively in the contiguous United States—having worked in 27 states, at latest count. We are committed to providing the resources and manpower necessary to get the job done—wherever that might be—whatever it takes.