Why Jones Contractors?
Simple. It's the kind of company you'd want to work with.
About Us
Why Jones Contractors?
If you asked those who know Jones Contractors how they'd describe the company and the people who work here, you'd hear words like "dependable," "integrity," "abilities," "family," "quality," "safety," "efficiency," or "honest."
The company has worked hard to be worthy of the high standards described by these words. Its leadership and its personnel are committed to being trustworthy and reliable. Always striving to hold firmly to high moral and ethical principles; to share common values and attitudes of solid moral character and honesty. They have proven to be competent due of skills, training and experience and honorable in principles, intentions and actions. They work at being upright and fair, as well as delivering on time and above expectations, without waste of time or effort—constantly striving to work free from risk, danger or loss.
In short, it's the kind of company most people would want to work for and most clients would love to work with. It's the kind of company from which you can take comfort in knowing they'll do what's right and give their best effort, all the time, every single day. It's a company that will always work to be principled, efficient and dependable.
Missions and Values: Built Strong, Forged in Life
If you know our history, you know Jones Contractors has strong roots in the things that are most important. From those earliest beginnings, through all the challenges that we have faced and conquered, we are still committed to the values that have shaped and guided us this far. We are prepared to work through whatever comes our way. We are prepared to succeed.
Our Mission, guided by deep convictions and solid values
Jones Contractors wants to stand out from all the rest as a knowledgeable and dependable team—committed to safety, quality of work and customer care—delivering what no one else can.
Our Purpose, committed to the things that matter for enduring success
Jones Contractors is driven by the things that matter for your continuing success:
We strongly believe that our commitment to safety permeates our work in the field and is an essential part of both our past, present and future successes.
We are dedicated to providing a quality of work second-to-none, regardless of the size of the company or the scope of the work.
We are determined to build strong relationships with our clients through care and concern for their success in a single project and, more importantly, beyond.
We will always strive to do our best and deliver what no one else can, no matter the challenges we may face.
If you want to learn more...
Look below and you'll find more information about our company's vigorous leadership, early history and abiding belief in community involvement.
Leadership: Only with the best people
can success be assured.
Realizing that its personnel must provide sincere honesty, unrelenting effort, and inarguable reliability to assure its success, Jones Contractors, Inc., always strives to lead with clear vision, comprehensive experience, and rigorous skills as it focuses on completing each and every project safely and responsibly. Heath Jones, President
As the President of Jones Contractors, Inc., Heath Jones is responsible for all facets of the business. His responsibilities include setting the overall strategy of the company, developing the company's growth and productivity, overseeing all aspects of field operations, and enhancing client relationships. Heath leads the senior executive team with a high value of morals and integrity. He works closely with the CFO to prepare budgets, perform risk analysis, and assist with financial decisions.
His heavy involvement in all aspects of the projects, from the bid process to the finished product,  ensures that projects are completed safely and efficiently to the clients' standards. Heath has a proven track record of completing projects successfully in the pipeline industry for more than 15 years, with contract values up to $40 million.
When Heath is not working, he is enjoying time on the family farm in Henderson, Tenn., with his wife and three children.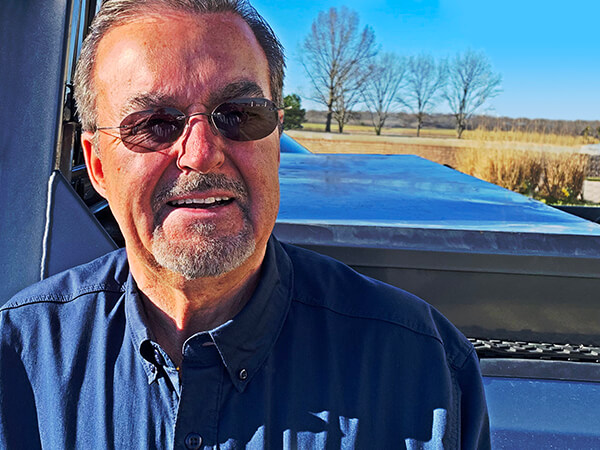 Randall Jones, Vice President
Randall Jones is a man whose leadership is grounded in hard work and integrity. He has more than 40 years of experience in the construction industry and 30 years of experience in business ownership. He, along with his wife Patricia, owned Jones Lumber Co. for 27 years. With his vast field knowledge, he is an asset to helping Jones Contractors continue its growth and success. As Vice President, Randall manages the large company fleet and handles all of the issues associated with it.
Randall is very involved with his local church congregation. When he is not at work, you will probably find him there or with one or more of his nine grandchildren.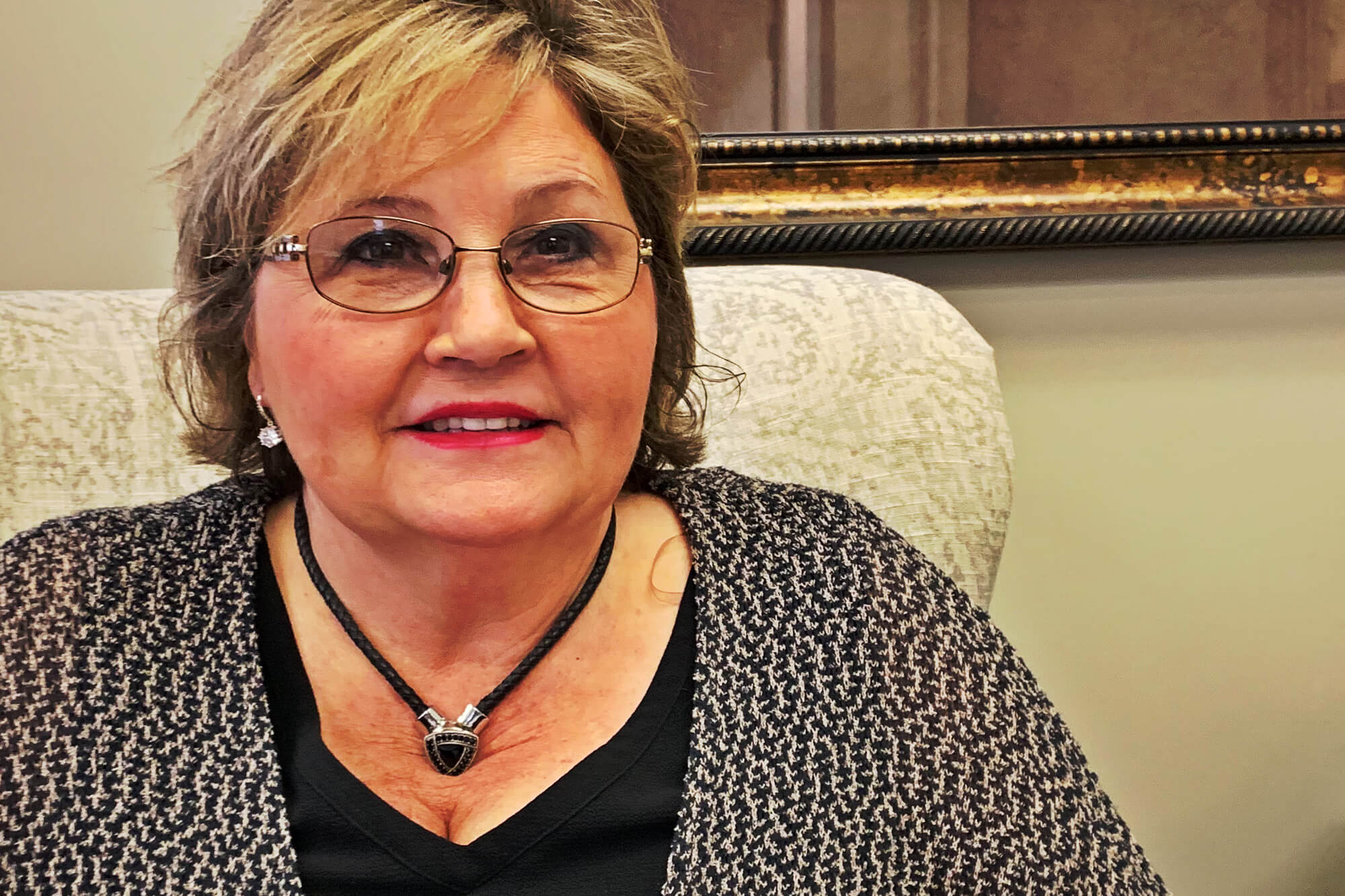 Patricia Jones, VP of Finance
Since 1989, Patricia Jones has been a leader of small business excellence in her community. Previously, as owner of Jones Lumber Co., Patricia learned how to grow a business from the ground up. She owned Jones Lumber Co. from 1989 to 2016 alongside her husband, Randall. Currently, she serves as VP of Finance for Jones Contractors and has been in this role since the company began in 2006. She works to support company initiatives to lead in the pipeline industry while remaining committed to safety and the environment.
Patricia believes strongly in community involvement and has been heavily involved in a number of community and leadership initiatives such as the Chester County Chamber of Commerce, Delta Leadership Institute Leadership class of 2013, and WestStar Leadership class of 2017. She also balances running a successful business with caring for her family as the mother to four and grandmother to nine.
History: Humble beginnings and hard work
Company Founder Heath Jones knows hard work from his parent's lumber store in small-town Henderson, Tenn. They expected a lot—to be professional and treat everyone honestly, with humility and respect. It wasn't always easy, but it paid off in the end. The lessons he learned in those early days were simple and concrete. Once he added hard work, sacrifice and self-discipline, he had what was necessary to make Jones Contractors a reality.
After high school and a couple years on his own working around Henderson, Heath saw an opportunity cutting overgrown wet areas, from Middleton, Tenn. to Elkton, Ky., in a 139-mile long, 50-foot wide right-of-way. With that job, in 2006, Heath officially started Jones Contractors, providing ROW mowing and side-trimming services around the Mid-South region.
In 2009, when the opportunity presented itself to add pipeline maintenance and repair services to his other ROW work, he leapt at it. He was able to convince his parents, Randall and Patricia Jones, to invest. Together, they divided company duties and proceeded to use that strong work ethic to build a company that soon got the attention of Rangeland Energy.
In April 2011, the company began its first major project for Rangeland in North Dakota. Jones Contractors became the general contractor for the development of the 274-acre crude oil loading terminal in Epping. The work was a challenge for the young company, but within a year the initial crew of 7 had grown to a workforce of 127.
One success followed another and in May 2014 Jones Contractors acquired a civil/structural division to make the concrete work more efficient. Later that year, the company completed its first self-performed concrete project under the Jones banner. It was the first of many in the years that followed.
As the company continued to impress, new clients asked Jones Contractors to perform new construction, station work and maintenance projects in North Dakota and the Mid-South. Soon, Jones Contractors was moving into the Texas and Oklahoma areas. With the workforce of 250 growing to 486 by 2017, Jones was ready to move to the next level. In late 2017, the company began providing cross-country pipeline installation services. And today, it continues to seek out new clients, opportunities and challenges wherever they can be found.
Current clients include: Andeavor, Cimarex, Energy Transfer Partners,
Kinder Morgan, Plains All American, Valero Energy, and more. Jones provides, or has provided, pipeline services for these clients and others in 27 states across the country—wherever they need to be. The company is ready to bring its fearless enthusiasm to get the job done right, to every client, every day—and, always with a focus on safety.
Community Involvement: Where we hang our heart
Multiple generations of the Jones family have lived in Henderson and Chester County in the great state of Tennessee. Their roots are deep. For more than 150 years they have worked side by side with countless other families to develop a place of which they could be proud. It is through the efforts of all the citizens of this relatively small area in West Tennessee that this community has had such a positive influence well beyond its borders—literally around the world. It is a welcoming and active community filled with friendly neighbors, wise senior-citizens and promising youngsters.
Jones Contractors loves this community and is always working to share its success with its neighbors in a variety of ways.
We encourage local organizations with charitable donations, monthly drives for food, clothing or whatever else would help our friends and neighbors.
We support our local schools in sports, plays and other events throughout the year.
We participate in local government, business organizations and festivals.
But, it doesn't stop at the Chester County line. When members of the Jones Contractors team settle in communities in Texas, North Dakota or any other state to do its job, it works to become an integral part of the local scene and help make that community a better place for all. Whether it's our families joining local little league teams, our people supporting local festivals or events, or everyone just working to become good neighbors and better citizens, Jones Contractors does not want to be a company that is "just passing through." Jones Contractors wants to be a part of the everyday life of the people it works with, to make friends and build relationships that strengthen the community and the company.
American Heart Month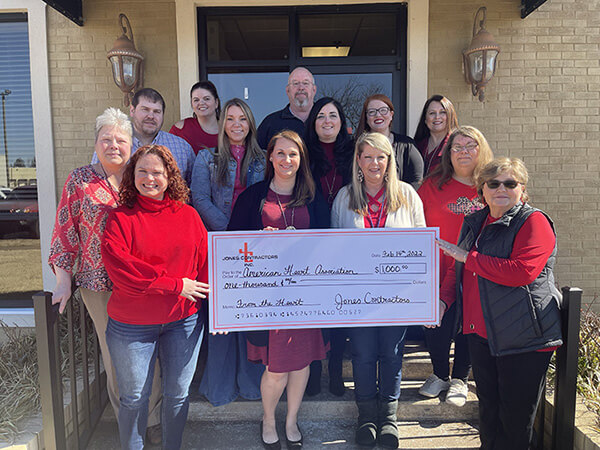 Jones Contractors
Receives Award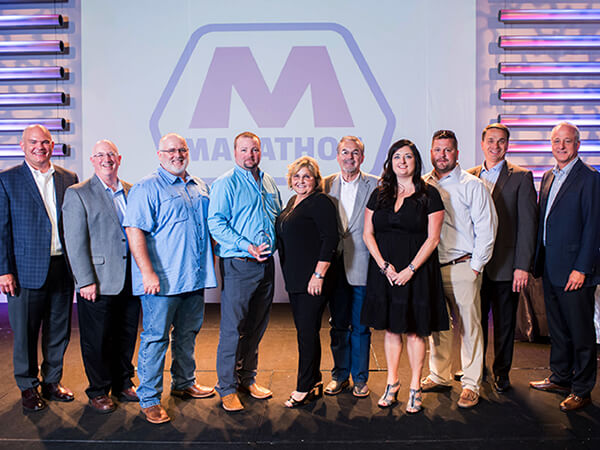 Jones Contractors Inc. was recently awarded the Marathon Supplier Recognition Award for Innovative Partnership at the 2019 awards event in San Antonio, Texas, in early September. Jones Contractors' principles, Heath Jones, Randall Jones and Patricia Jones, all of Henderson, were present to receive the award. Others in attendance included additional Jones personnel and leadership from Marathon and all nominated suppliers, approximately the top 0.5 percent in the industry.
Marathon chose Jones for this award because "the company is consistently recognized by stakeholders for their quick project response, in an atmosphere where projects are characterized by quick-starts and ambiguity due to the nature of the logistics business exposed to high-growth and a fast-paced environment."
Marathon also stated "Jones has demonstrated ownership and accountability by proactively seeking ways in which to deliver incremental value. It has done this by offering better project alternatives, execution approaches and sound decision-making on behalf of the client.
"Their project delivery was routinely delivered better than planned and generally required less downtime than was planned. This enabled a quicker return of assets back to operation and revenue generation. Work was delivered competitively and achieved high ratings for quality performance.
"Prompt customer orientation and delivery of quality, reliable and consistent work has helped them position Jones as a leading provider to our business."
The Marathon Supplier Recognition Awards are meant "to bring attention to suppliers who demonstrated extraordinary performance as a business partner during 2018," according to company literature. The awards are presented in the areas of Safety, Environmental Stewardship, Corporate Citizenship, Innovative Partnership, Diverse Business, and Supplier of the Year. Seventeen awards were presented at this year's event.
Jones Contractors' president, Heath Jones, said, "We are excited to receive this award and the recognition it brings to the people who work hard every day to make our projects a reality for our clients. It is because of our great employees that Jones Contractors continues to grow and succeed."
Jones Contractors Inc., with more than 800 employees across the central United States and the Mid-South, provides a wide range of pipeline services for the pipeline industry. The company completes pipeline construction projects throughout the contiguous United States,with centers of operation in Henderson, Tennessee; Midland, Texas; and Watford City, North Dakota. Jones Contractors Inc. seeks to be a valued member of every community in which it works.
Photo: Michael P Gebhardt, Vice President of Supply Chain Management, Marathon Petroleum Corporation (MPC); John S. Swearingen, Executive Vice President, Logistics and Storage, MPC; Scott English, Senior Project Manager, Jones Contractors Inc. (JCI); Heath Jones, President, JCI; Patricia Jones, Chief Financial Officer, JCI; Randall Jones, Vice President, JCI; Amber Lay, Controller, JCI; Clay Rodgers, Regional Manager, JCI; Gregory S. Floerke, Executive Vice President, Gathering and Processing, MPC; Donald C. Templin, Executive Vice President and Chief Financial Officer, MPC.
Watford City Ribfest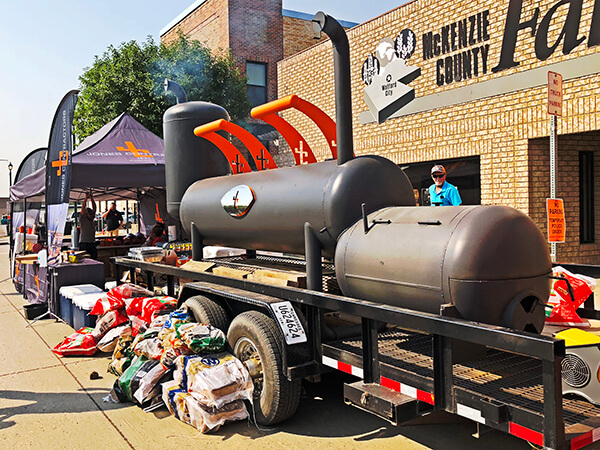 On Main Street Watford City, things heat up for one Friday in August when Jones Contractors and other pipeline companies join in a little friendly competition to see who can cook the best ribs at the Best of the West Ribfest. All day long, the barbecue experts cook for the people. Later, after the winner of the "best ribs" is announced, fans can eat those too. They're joined by all sorts of other vendors to create a street festival where folks can find arts and crafts, carnival food, a classic car and truck show, kids zone and more—and all topped off by free street concerts (set to feature country music artist Joe Nichols in 2019). Money from all the food that Jones Contractors sells goes to Blue Santas, a charity of the Watford City Police Foundation, who buy presents for children at Christmas. It's a great day of fun for all. Jones is excited to be found in the middle of it each year.
Monthly Drives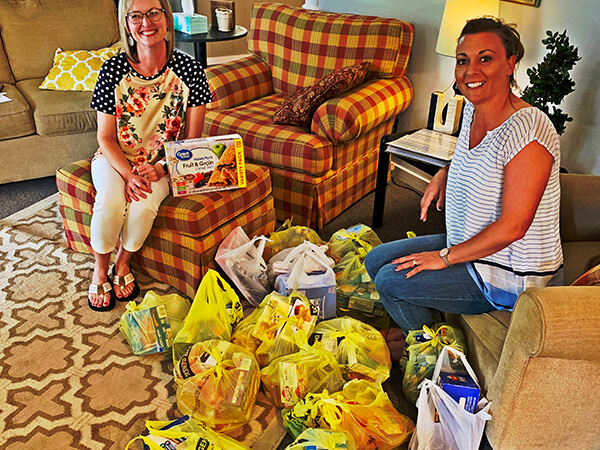 Through our Monthly Drives, Jones Contractors employees hope to be better neighbors. Each month someone at our home office suggests a group or organization that needs our help. We find out what things they need and spend the month collecting those things to help them do their work of helping improve the lives of others. So far, members of our office staff have helped with food, clothing, school supplies, cleaning supplies, kitchen and household items for Carl Perkins Center of Chester County, Dream Center of Jackson, Eagles Edge (Family Resource Center), EDEN of Youth Town, Henderson Soup Kitchen and, most recently, Women of Hope Recovery Center (Medon, Tenn.).
Go Red for Women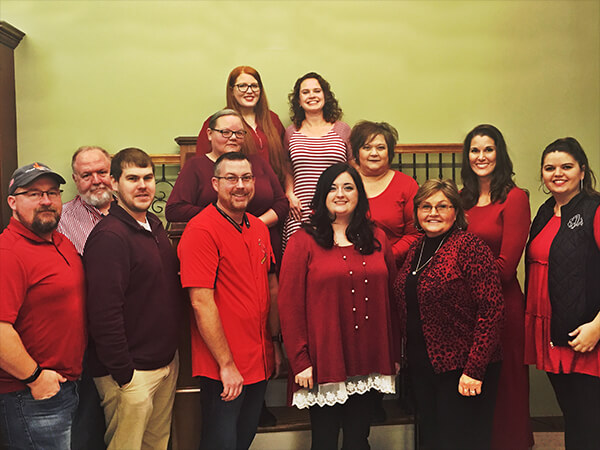 Employees in Henderson, Tenn., pose for a group photo, showing their support for "Go Red for Women," the American Heart Association's national movement to end heart disease and stroke in women.